You may notice the Flores247 site has been updated to include the following improvements based on your feedback.
Recent updates to the design and functionality of the website include:
Account Alerts
DEBIT CARD ALERTS
An alert will display within the "Medical Reimbursement Account" bar on the "Accounts" page if you have any outstanding unsubstantiated FSA debit card transactions.
If your debit card is suspended due to an outstanding documentation request or an ineligible payment, an alert will show in the applicable account section. A link to the unsubstantiated items, as well as how to clear up the suspension will also display.
SUGGESTED ACCOUNT UPDATES
If you have not provided an email address to Flores, or setup direct deposit, an alert will display on your screen and will direct you to your account "Maintenance" screen where you can add your email address and/or add direct deposit info, if desired.
If you provide your email address to Flores, you will receive ongoing e-status updates when claims or other documents are received, and also when reimbursements are processed. Plan related reminders are also sent out at various times throughout the plan year to all participants that have provided email addresses to Flores.
If you do not wish to provide an email address or direct deposit data, simply dismiss these alerts.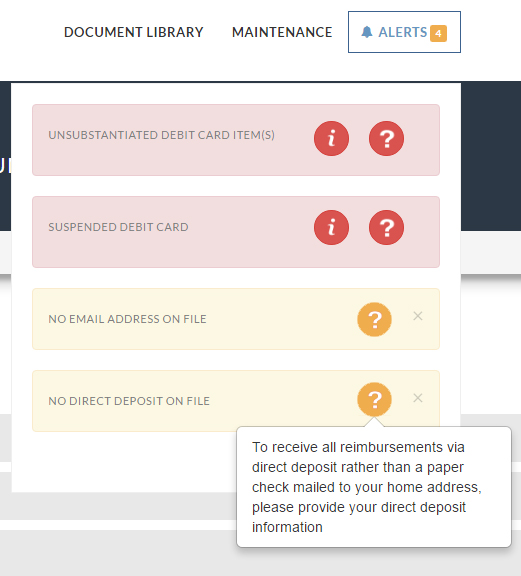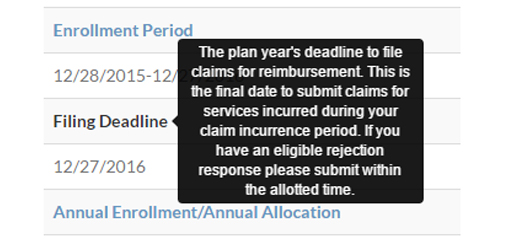 MORE DETAILED PLAN INFORMATION & EXPLANATION OF PLAN TERMS
Increased visibility of enrollment period and claims filing deadline.
Hover over buttons have been added to further explain plan related terms, as well as how certain figures displayed online are calculated, and how this matters to you.
MORE COBRA FUNCTIONALITY ONLINE
Important deadline dates are now more visible to you online
A printable payment summary is now available under the "Paid Invoices" section of your COBRA account.
The option to submit a request to terminate COBRA coverage is now available online.
Terminated COBRA accounts will remain visible online until April 15th of the following year in which the coverage was terminated.